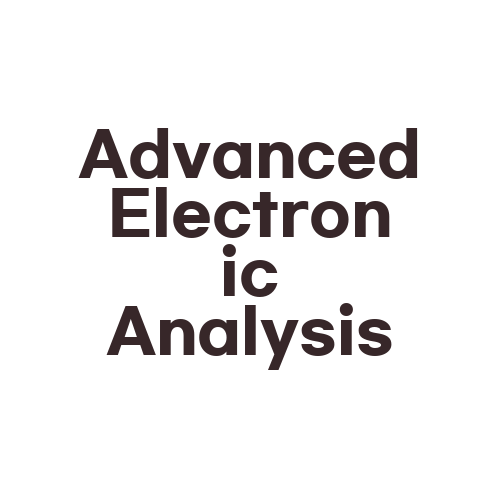 Advanced Electronic Analysis (AEA4ER1101)
Welcome to the fascinating world of Advanced Electronic Analysis (AEA4ER1101)! In this article, we will delve into the intricate details of this subject and explore its significance in the field of electronics. AEA4ER1101 is a course that offers a comprehensive understanding of advanced techniques used in electronic analysis, aimed at empowering students with the knowledge and skills to excel in the ever-evolving world of electronics.
1. Importance of Advanced Electronic Analysis
The rapid advancement of electronic devices and systems necessitates a deep understanding of advanced electronic analysis. AEA4ER1101 provides students with the necessary tools and techniques to analyze, design, and optimize complex electronic circuits. It equips them with a profound knowledge of advanced analysis methods, enabling them to tackle challenging electrical engineering problems effectively.
With the increasing complexity of electronic systems, it is crucial to have expertise in advanced analysis techniques to ensure optimal circuit performance, reduce power consumption, and enhance overall system reliability. AEA4ER1101 plays a vital role in promoting these skills, making it an indispensable course for aspiring electrical engineers.
2. Fundamental Concepts in AEA4ER1101
2.1 Signal Analysis and Processing
Signal analysis is a key aspect of AEA4ER1101, encompassing the study of signals in both the time and frequency domains. Students learn about various signal processing techniques such as Fourier analysis, convolution, and filtering. These concepts enable them to analyze and manipulate signals, extracting valuable information and enhancing the performance of electronic systems.
2.2 Circuit Analysis Techniques
AEA4ER1101 delves into advanced circuit analysis techniques that go beyond basic circuit theory. Students learn about advanced methods like Laplace transforms, transfer functions, and frequency response analysis. These tools allow them to analyze and optimize complex circuits, taking into account factors such as stability, gain, bandwidth, and transient response.
2.3 Network Analysis
Network analysis forms a crucial component of AEA4ER1101, covering topics such as impedance and admittance matrices, two-port networks, and network synthesis. These concepts provide students with a deeper understanding of interconnected systems and enable them to analyze and design complex electronic networks, incorporating desired properties and specifications.
3. Advanced Experimental Techniques
Advanced Electronic Analysis extends beyond theory and equips students with hands-on experience in experimental techniques. AEA4ER1101 familiarizes students with advanced measurement tools and techniques, enabling them to perform accurate measurements and validate their theoretical analysis. It emphasizes the importance of experimental validation in the context of electronic analysis, ensuring the alignment of theoretical understanding with practical application.
4. Application Domains
The knowledge gained through AEA4ER1101 is applicable across various domains within the electronics industry. Whether it be designing communication systems, developing integrated circuits, optimizing power electronics, or working in the field of signal processing, the skills acquired in this course are highly sought after by employers. AEA4ER1101 opens up numerous opportunities for students to venture into exciting and groundbreaking areas within the electronics field.
5. Conclusion
Advanced Electronic Analysis (AEA4ER1101) is a pivotal course that equips students with the expertise to tackle complex electrical engineering problems. The knowledge gained in this subject allows students to analyze, design, and optimize electronic circuits and systems effectively. With applications spanning various domains, AEA4ER1101 empowers students with the skills needed to excel in the dynamic field of electronics.